Above: A clown and a float at Andes Community Day in 2007. Photo via the Andes Community Days Facebook page.
In past years, the main event of Andes Community Day was the parade, featuring the members of the local fire department and other town worthies, that kicked off just after the Trailways bus passed through along Main Street.
But this year, Andes's annual celebration has ballooned into a two-day extravaganza featuring belly dancers, a petting zoo, watermelon and corn-on-the-cob eating contests, a "tractor dance," horse and buggy rides, live music by multiple bands, auctions and raffles, wildlife and sheepdog demonstrations, a family fishing clinic, guided hikes and paddles, a magician, bake sales, bratwurst, beer and farm tours. We hear that Congressional candidate Zephyr Teachout may be in attendance.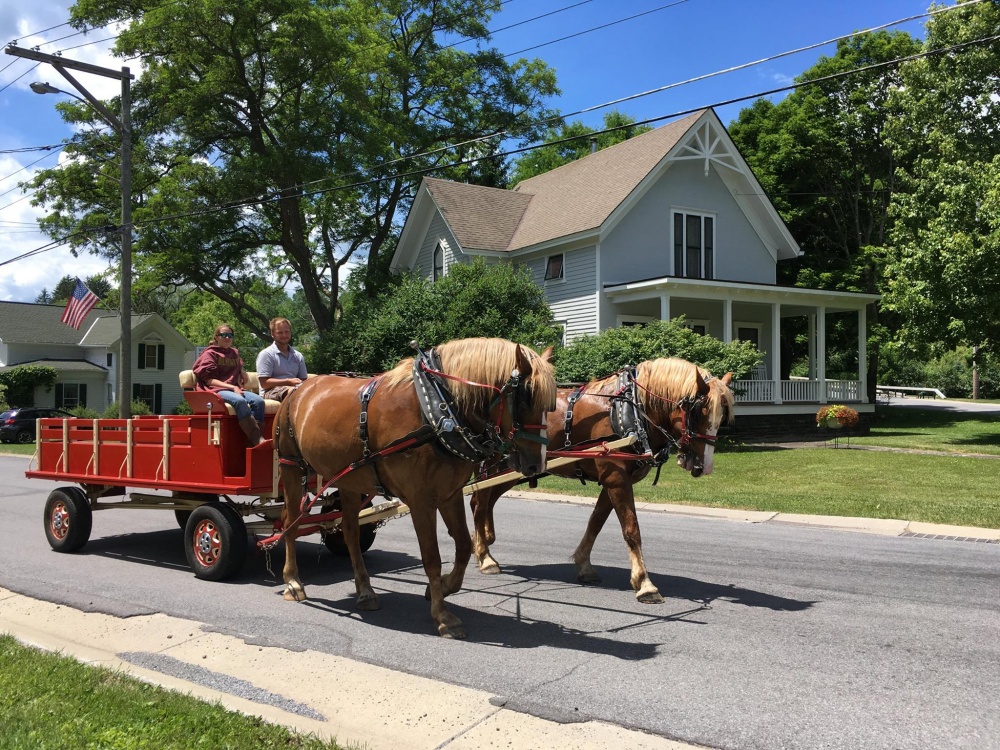 Above: A horse and carriage from Argyle Farms will attend the parade. Photo via the Andes Community Days Facebook page. 
But the parade is still at the heart of things. This year's edition looks to be gigantic. Starting at 11 a.m. on Saturday, August 13, floats and marchers representing 12 local farms as well as episodes from the harrowing history of the 19th-century Anti-Rent Wars, portions of which were fought in Andes, will promenade down Main Street. (It still starts just after the bus passes through.)
In Ballantine Park, a historical dance/music/theatre world premiere, "Letter from the Anti-Rent Wars," will debut at 12:30 p.m. on Saturday, just after the parade.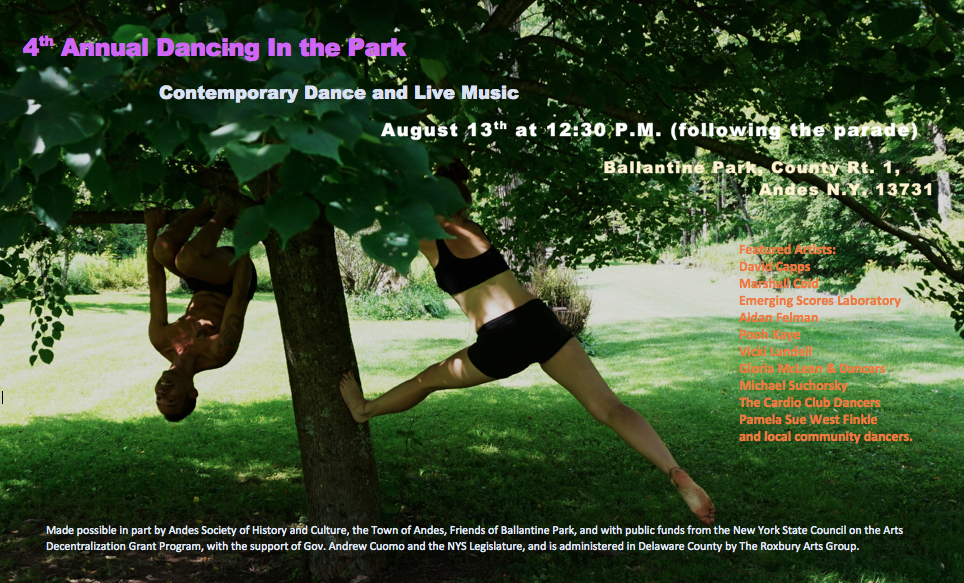 Above: A poster advertising dancers in Ballantine Park. 
It's a dance and a musical performance, with a libretto. The organizers are calling it a "masque." Its subject is the Anti-Rent Wars—specifically the thoughts of an anti-renter named Edward O'Connor as he sat in prison waiting his execution. 
The performance covers the same subject as last year's "Calico Indian Dance Showdown," a dance series about the Anti-Rent Wars created by choreographer Todd Whitley and performed across Greene County. But it's an unrelated project, according to Misha Gutkin, who is filming a documentary about the Anti-Rent Wars. 
This dance is directed and choreographed by Gloria McLean, the president of the American Dance Guild and a veteran of the Erick Hawkins Dance Company, who is also an Andes resident. McLean worked with Marshall Coid, who is currently performing in "Chicago" on Broadway, to create a libretto out a 19th-century jailhouse letter written by O'Connor.
Professional dancers and musicians from the Catskills and from NYC, and well as student dancers from Delhi, Bovina and Andes, will perform together in the show. The audience will be right in the middle of things—dancers will weave around them during the performance. (Just like the parade, it's BYOC—Bring Your Own Chair.)
Andes Community Days. Saturday, August 13 and Sunday, August 14. Andes. Parade at 11 a.m. Saturday, August 13. Full schedule at andesnewyork.com/events.